Short Version: I wrote a book about being ill most of my life and then getting well. I self-published it (You can buy it here and here.) and when it came time to do a revision, I decided to put it all on this website and make it available to everyone for free. There are charts on this website that are not in the original version, as well as a few new chapters. They make good companions if you're the type of person that likes a hard copy as well as having it available on your devices. Looking for the Media Kit? Here you go.
Here's a third-person variation:
Welcome, Friends.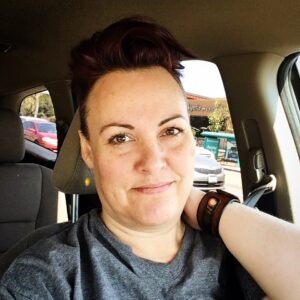 I'm a Queer, Gender-fluid Writer, Sex and Body Positive Health & Wellness Mentor, and Reiki Master. I'm glad you've found me
.
I specialize in working with people like me. If one or more of these sound like you, we might make a great team. Make an appointment with me here.
<3 ~ Queer or exploring gender for yourself or someone you love.
<3 ~ Raised in a highly religious environment that was/is inhospitable and unsupportive of who you are.
<3 ~ Maybe highly creative in one or more ways.
<3 ~ Wanting to move forward with your life and grow through this challenge and into the next chapter of your life.
<3 ~ Possibly emotionally, physically, and/or mentally unique with a combined set of illnesses.
<3 ~ Possibly chronically ill at some point in your past, or experiencing a chronically ill life now, or are moving in that direction against your will.
<3 ~ Maybe Highly Sensitive and in need of a simple yet comprehensive approach to healing.
<3 ~ Possibly the parent or spouse of someone who fits in these categories.
<3 ~ Exploring body and/or sex-positivity, kink as healing for trauma, and/or polyamory.
I use a diverse set of skills to help you get in touch with what's not working for you and help you tune into your inner strengths including energy work, muscle testing, the mind/body connection, lifestyle and food changes, and emotional release work.
I live in San Diego and meet with clients from their location via the magic of Skype. Make an appointment with me here. Find out more here. Please get in touch here.
I'm NOT a licensed therapist and I'm happy to point you in that direction if that's what makes sense. I AM someone with almost fifty years of lived experience who has been successful at helping many others improve their lives using the knowledge I've acquired along the way. Please read the agreements below so you know how our relationship will be set up and what I expect from our work together.
AGREEMENTS
Here are the agreements we make by entering into this work together:
I assume that because you found me, it's the right time for you do some work that I can help you with. As long as you're invested in working on your stuff, I'll be happy to stand with you. This work can look like many different things and show up in many different ways, but it always requires you to be brave and honest. That doesn't mean you won't ever feel afraid, but it does mean you agree to try and move forward and through hard things.
I offer you love while holding you accountable. I promise to be compassionate and unflinchingly honest while you explore the foundation and structures you've constructed to protect yourself. I will promote radical and fierce self-love and self-care and I will support you as you uncover the ways you'd like to be loved and supported.
For our work to be successful, you will need to be ready to change how you view the world, yourself in the world, and your underlying limiting beliefs that keep you stuck in unhealthy places. You will need to be willing to sit in discomfort while you learn new ways to be and think and feel. And you may need to be willing to process grief as we say goodbye to ways that haven't worked to make room for the new, healthier, more positive ways of being.
PLEASE REMEMBER
I am not a therapist or councilor or any licensed healthcare professional. The work we do together and any advice I give you will be based on my own lived experiences and what I've learned by working with other clients in the past 15 years. You agree to not hold me responsible for any losses, damages, settlements, liabilities, costs, charges, assessments, or expenses on your part relating to our work together or participation in my groups, workshops, books, or any other product or class I create or facilitate.
©2018, Leah Peterson Crawford